Divi WordPress Web Design by Trace
Are you a sparky woman in business?
I love working with UK business owners who want a gorgeous, contemporary WordPress website! Super Divine Web Design specialises in creating Divi theme websites. Please take a look at my portfolio and client feedback…Trace x
WHAT I DO?
Very simple: I make clients happy by delivering them a gorgeous, functional Divi WordPress website, that appeals instantly to their Super Customer, is value-packed, transparently priced, and stands out from the crowd.
GETTING YOUR CONTENT
My Clever Content & Copy Capture Quiz is a radical secret weapon! Nobody, but nobody loves to stare at a blank page and conjure up compelling website content. When you complete the 4C Quiz, it will eliminate all your copy and content nightmares, because I can write it for you!
DECIDE ON YOUR PACKAGE
Choose your layout from Separate 7 or Continuous 7, and add any required bundles e.g. Blogging, extra e-Newsletter Optins, Woocommerce Shop, SEO, or Extra Pages
NEVER HOLD YOU TO RANSOM!
You are NOT locked into anything: no small print, no extortionate developer rates after handover – you can hire anyone you like to update your site – although I'd love it if we continued our working relationship!
HOW IT WORKS?
Even if you hate talking to people on the phone, we do have to have a quick conversation before we can start! Book in your 15 minute Introduction Call, and see if we're a good fit?
MAINTENANCE & SECURITY
Are you looking for the right person to look after all those dreaded updates for plugins, your Divi theme and core WordPress verson? Do you hate updating in case your website breaks? Are you concerned about hacking attempts? I can look after your website for £35 a month, and take all your worries away.
Is it time to give a couple of sections a refresh? What's not working on your website right now that could do with a tweak? Use my fab Divi Fixer service and book in an hour or two to let me add a touch of Super Divine to your website!
DIVI WEBSITE PACKAGES & SERVICES
DIVI FIXER by the hour
Fix Page By Page

Book 1 to 10 Hours

Set Up List Builders

Set Up Payment Button
STARTER OR REDESIGN
7 Short Pages

Standard Menu

1 Email Optin

No e-Commerce
SEO PACKAGE
Google Search Console Set Up

Sitemap & Indexing

Page Optimisation/Keywords

Social Share Image Set Up
MONTHLY MAINTENANCE PACKAGE
Is your website as secure as it can be?
Do you have regular back-ups taking place?
Hate not knowing when to update those pesky plugins, your Divi theme, and core WordPress?
Don't know what to do when an update breaks your site? I can take care of everything. A Monthly Maintenance Package is £30 per website.
SAY HELLO
Meet Trace
Northern. Bit sweary. Tallish. Laughs like a drain.  Well travelled. Passionate Divi WordPress website designer. Seeker of gorgeous fonts. Excellent speller. Disliker of "sneak peak" instead of "sneak peek"!! Red lippie wearer. Boots over Heels. Bath over Shower. Spotify addict. Dog bimbler and general slave to Stanley Stafford. Espresso slurper, but a mug of Yorkshire Tea first thing in the morning! Decidely average, but enthusiastic baker. Garden potterer. Amateur snapper. Prefers Pointless over The Chase. Radio 2 Ken Bruce Popmaster joiner-inner. Prefers Twitter to Facebook. Voracious reader. Loves Thai and Indian food. Would like to retire to somewhere hot, by the sea – probably in France, or perhaps Greece – who knows?! Mum to 1 grown up son, Joe who has recently graduated from Manchester University, and is working for a financial organisation in London.
MY RECENT WORK
Please do have a mooch through my Divi website and design portfolio. My clients all have very different businesses, and every single project is individual. No "cookie-cutter" approach here.
HAPPY CLIENTS
What's it like to work with me?
Here's a selection of fab feedback!
MICHELLE EMERSON
SELF PUBLISHING EXPERT
Tracy isn't just a fab, knowledgeable web expert/guru/WordPress Boffin… she's also patient, friendly, funny, trustworthy and will go way beyond what she sets out to do.
I highly recommend her services regardless of the level of web design support you need.
And when she's helped you once, you'll never want to go anywhere else.
She's a star.
LOUISE PERCY
BUSINESS CONSULTANT
Trace designed my original website 5 years ago. We decided it was time for a review and refresh of the site but I had a tight timescale due to a marketing campaign launch. Trace delivered the exact requirements and more. Her attention to detail is awesome. She also makes really useful recommendations for improvements that I have not thought about to enhance the site.
Always on the other end of the phone to lend a hand or just talk through future ideas – I cannot thank and praise Trace enough!!
JO JENKINSON
VIRTUAL ASSISTANT
Trace delivered a fantastic new Divi website for my Virtual Assistant business! Trace is super helpful, very creative and designs the most amazing websites. This is my 2nd Divi website designed by her and I wouldn't use anyone else if I needed another. I would also highly recommend her services. She is professional, friendly and full of suggestions and ideas! She has helped and supported me so much through this process and I now have an amazing website that I LOVE!
Thanks Trace! You are a star! Jo xx
FREQUENTLY ASKED QUESTIONS
Click through for FAQ on web hosting, design content, SEO, SSL Certificates, how it all works, prices etc.
ON THE BLOG
WordPress hosting, Divi Video Tutorials, Trusted Purchased Products & Services, Small Business Life, and Guest Posts
How to maintain your Divi WordPress website - A quick and easy 5 minute tutorial I realised that a lot of you will be looking into how to maintain your Divi WordPress website - perhaps you've let your Virtual Assistant go for now, or cancelled your monthly maintenance...
read more
Sign up
and get the latest updates on WordPress, Divi, Security, Tutorials, Design and more.
Get in touch with Trace
If you need an answer to something that's not on the website, please drop your question over to me, and I'll get back to you very promptly. Thanks, Trace
MY TRUSTED PARTNER PRODUCTS & RESOURCES
Total transparency: the links below for Divi, Awesome Marketing Planner 2020, Social Media Sensation and Font Bundles are affiliate links, so I will get a couple of quid as a referrer. However, I ONLY become an Affiliate for a product, resource or service that I actually use, trust, and most importantly, LOVE!
PS: Affiliate payments help keep Super Office Assistant Stanley Stafford in dog treats and tennis balls – and Trace in espresso pods! Thank you for using my links, it's really appreciated. Trace x
AWESOME MARKETING PLANNER 2020
I have my Awesome Marketing Planner System 2020 already reserved!
This will be my 4th planner from Claire Mitchell at The Girls Mean Business.
This is the ONLY Planning System I use.
Why?
Because it's not just a beautiful A5 book to write my ideas down…
It's PURPLE with gorgeous gold foil detailing…so BEAUTIFUL!
It's a calendar…It's a Sales Tracker…
It's a target setter… It gives me accountability…
I can plan my newsletter, blog & social media topics…It also helps me look after myself.
It's an online portal with tutorials, downloads & printables…
I get a Weekly Bum Kick email too!
The private Facebook Plannerina Group is also AWESOME – sharing our expertise, knowlege and recommendations if someone is looking to hire a professional for a particular project…
If you need to get focused, organised, and keep your business on track next year – get the Awesome Marketing Planner System – it's like having a business coach in your bag and at your fingertips. As well as having a Facebook Group Cheerleading Team behind you too! Trace x
How would you like to have at least 365 days of social media content at your fingertips?
You get 365 images, a spreadsheet full of inspirational quotes, a content calendar and planner, as well as fab training to show you how to get MORE engagement, and how to quickly and easily create top social media content that your fans will love.
The "Bloom" meme shown above is one I created with the help of the "Over" app, an image from Social Media Sensation, and my own biz branding. So easy to make!
BRILLIANT BUSINESS ACADEMY
Claire Mitchell's Brilliant Business Academy is a MUST resource for all women in biz!
I've been a member for a very long time now, and it's only £15 a month. I couldn't join a networking group for that amount AND I wouldn't have access to hundreds of like-minded women in business, who have skills/products/services I need!
Not to mention the amount of amazing expertise and advice at my fingertips – if I'm stuck with something or need feedback – I just ask the BBA group! Come and join us.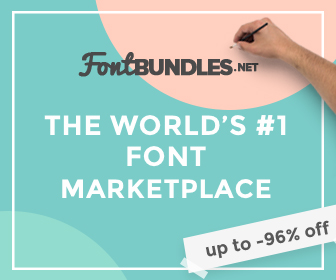 I LOVE Font Bundles! My go to resource for beautiful and unusual typography.
As a creative, I'm always on the hunt for quirky and stand out from the crowd fonts that can make my client's website look a million dollars – with fonts that are not a lot of money. I know I'm sick of Google Fonts on everything!
Look out for fantastic value offers for bundles – you can use them for commercial purposes too. Add a bit of va-va-voom to your social media & website projects!
ELEGANT THEMES DIVI BUILDER
As you know, Super Divine Web Design creates gorgeous, contemporary Divi websites on the WordPress platform. If you would like to switch your website to Divi, please click the banner below to check out the Demo on the Elegant Themes site. Your Divi website requires a licence key – choose from Annual or Lifetime Membership. I have Lifetime Membership as it made more sense financially. If you would like to have a "play" with Divi before committing, please drop me an email, and I can arrange access to a testing site for you!

FAST, UK-BASED WORDPRESS HOSTING
After YEARS of being with TSOhost, too many website crashes, and below par Support made the  decision to switch to Stablepoint earlier this year a no-brainer. Not only do mine and my clients websites load so much faster, but their Tech Support Team are brilliant! Nothing is too much trouble, AND they have a fantastic, dedicated Website Migration Ticketing System. Makes life so much easier. If you would like to switch your hosting to Stablepoint, I highly recommend them. Bag your 20% one-off discount, or 5% recurring. Make sure you choose "Europe" and "London" as your nearest city when ordering a plan. If you need help, just open a Live Chat session on their website – they really are super helpful.
Use MAPI75DU8E Affiliate Code at Checkout to get your 20% one-off discount!
Use N6ZCNFICPV Affiliate Code at Checkout to get your 5% recurring discount!